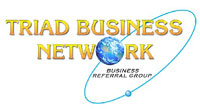 ---
BENEFITS

OF BEING PART OF TBN include Increased exposure to many other people and businesses, as well as:
Substantially increased business through referrals.


Tools to network more effectively, including an orientation class outlining the "Formula for Success" in TBN, a badge, a vinyl card holder to carry members' business cards, referral slips, marketing materials and much, much more.

Participation in up to 52 networking meetings per year.

Quarterly newsletters with educational material on networking, public speaking, and business.

Participation in business tradeshows (where you'll have an opportunity to market your chapter and your business).


Free periodic workshops on networking.


Educational opportunities.

Your business listing in the annual membership print directory.

Your business listing in the online membership directory.

A subscription to the TBN Newsletter, published quarterly.

Scholarship opportunities.

Speaking opportunities through the TBN Speakers Bureau.

Close working relationship with the Small Business Administration through the Memorandum of Understanding.

Invitations to the annual breakfast, dinner, retreat and other TBN networking events (see the TBN Calendar).
Each chapter member represents a specific business category.

While you cannot control the economy or your competition, you CAN control your response to the economy.



As a business owner you can refuse to participate in the "see saw" economy. You can join TBN!

Work your Network system.

Set up meetings with other members of your chapter.
Prepare in advance for your weekly presentations.
Utilize handouts, fliers and other support materials to go with your presentations.
Develop special offers to extend to members.

Meet ALL the visitors that come to your chapter.
Attend other networking events and really network.
Set up incentives for others to refer you.
Aggressively look for opportunities to refer others in your chapter as well as build your business/organization; what comes around, goes around!
Be an active participant—It's not Net-Sit or Net-Eat, it's NETWORK.
Triad Business Network
IS WORTH more than $20,000.00
(US)
To You and Your Chapter

The average member gives 45 referrals per year
$450(US/Bahamian Dollars) x 45 = $20,250(US/Bahamian Dollars)

Average cost = $ 1,565.00 (US/B)

Average Value = 8 years
Based on a survey published in The World's Best Known Marketing Secret

COMPARE THE VALUE . . . !

WORD-OF-MOUTH MARKETING WORKS!

HOW MANY PEOPLE CAN YOU

INFLUENCE WITH ONE

RADIO AD?
(average cost nationwide: $1,568.00 )

HOW MANY PEOPLE CAN YOU COME IN CONTACT WITH IN ONE YEAR BY USING A SALES FORCE OF UP TO 40 PEOPLE?

Most business people advertise. We would never suggest that you stop advertising. What we ask is that you "

Compare the Value." (All values are based on US & Bahamian currency for this example)
A 4" X 4" one time Display Ad averages $1,568.00 (US).

A referred lead is the best lead to get!
Triad Business Network
PO Box 16496
Winston-Salem, NC 27115
Email: info@triadbusinessnetwork.com
Home |Our Vision | Mission/Goals
Events Calendar | Workshops & Seminars | Networking | Referral Program